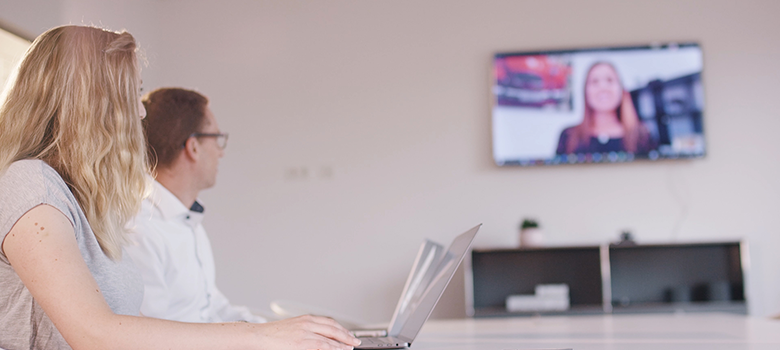 Solutions for tomorrow's modern workplace
Modern workplace solutions from Microsoft

Lay the foundation for your digital future
Digital transformation is creating new ways forward as well as challenges for companies in today's changing world of work. With its ability to meet the challenges of today's digital work environment, Microsoft's digital workplace concept has shown itself to be a future-proof approach to ensuring the sustainable success of organizations undergoing digitalization.

Create a reliable digital foundation for your future-oriented modern workplace by combining different concepts, cloud solutions and smart add-ons from Microsoft, as well as custom developments irrespective of your industry or the size of your business. Meet the new challenges of a changed work environment with the help of modern technologies and lay the foundation for productive working, wherever your employees are located.
Advantages of Microsoft's digital workplace
Flexible workplace concepts for modern teamwork
Maximum cloud IT security and compliance
Reliable digital working thanks to modern end devices
Mobile provision & use of software solutions
Optimum acceptance and productivity through targeted support measures
Transform your digital workplace and create a location-independent, flexible and secure foundation for peak productivity in today's digital age.
What does a digital workplace involve?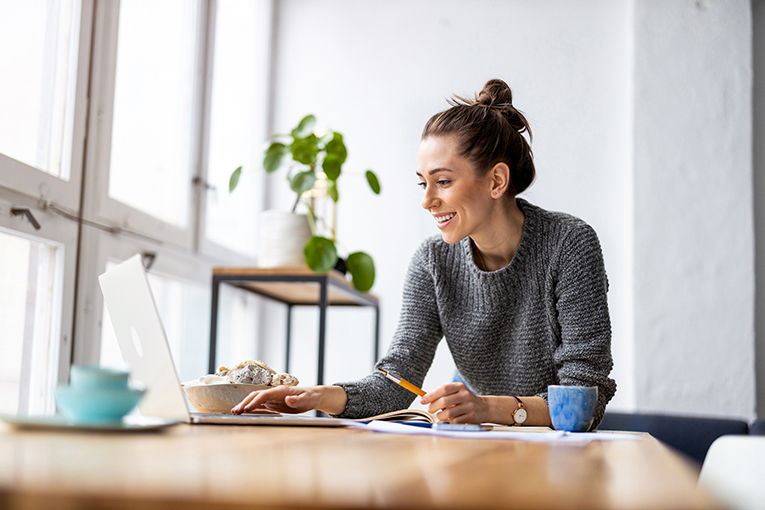 Smart Microsoft collaboration tools for more productivity
Make digital collaboration in the modern workplace easier: connect people, files, information and tools for increased productivity across the digital workplace using smart collaboration management solutions.
Microsoft Teams delivers a reliable one-stop solution for modern teamwork by combining intuitive chat capabilities with trusted Office 365 applications to create an optimal IT landscape for your business. Collect and manage project-relevant information in one central location through Microsoft, for fast findability and optimized project team collaboration across your digital workplace.
Microsoft Teams adapts perfectly to how you work: your employees can easily create new workspaces themselves within seconds and integrate established applications from Microsoft and third-party providers like YouTube, Trello, and Adobe Creative Cloud. And all this takes place in compliance with the very latest security standards.
Looking to go one step further and avoid potential organizational chaos and sprawl in Teams? Our lifecycle management solution WorkspaceHub cleans up so you get the full potential out of your team environment!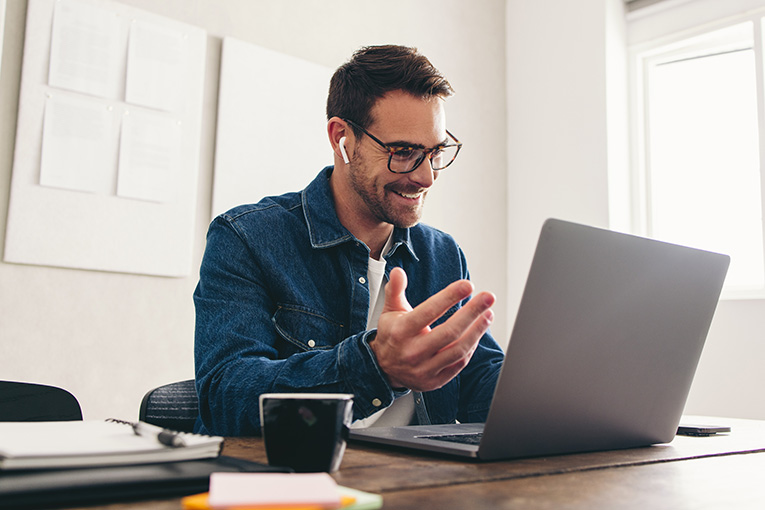 More flexibility through virtual Microsoft Teams calling solutions
The modern workplace no longer accommodates outdated landline calling solutions. Transform your landline systems to ensure reliable, flexible accessibility, and get ready for the challenges facing your teams in the digital workplace now and in the future. Whether you're at the office, working from home, or on the road, the Microsoft Teams Phone system meets your needs and modernizes landline calling within a familiar Microsoft 365 environment. So, you can say goodbye to high purchase and maintenance costs, and to changing hardware. We want to welcome you to the reliable world of cloud calling. Using our expertise from numerous Microsoft Teams calling projects, we are able to help your business plan and roll out virtual calling on a needs-oriented basis, and so pave the way to a reliable digital workplace environment.
Are you interested in taking advantage of all the benefits of modern, mobile cloud calling without sacrificing the features of a classic telecommunications system? Then we suggest you also take a look at our SBC solution DO4U Phone for Microsoft Teams.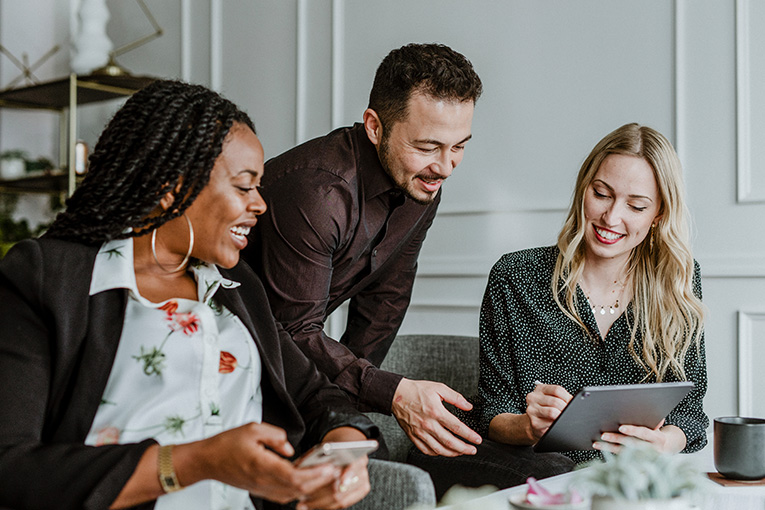 Shaping the future of corporate communications
Outdated intranet solutions are part of yesterday's workplace. Increase the effectiveness of internal communication and collaboration with a modern social intranet solution as part of your digital workspace.
A modern intranet helps strengthen corporate culture, motivates people within your business to share ideas, and promotes knowledge sharing and the efficient flow of information. Take advantage of a modern, interactive platform that engages your employees and drives your business forward. We are here to help you find the right solution to fit your needs.

Invest in the future with a reliable and accepted social intranet solution.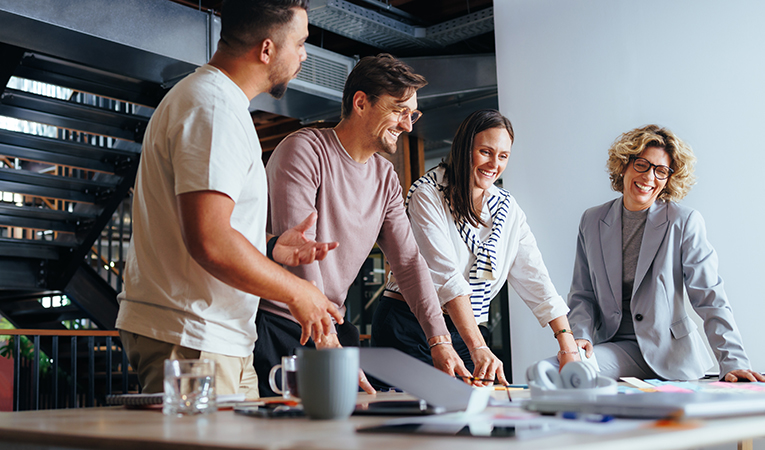 Successfully supporting the way to a digital workplace
The road to a modern digital workplace with Microsoft 365 technologies isn't a simple one and presents businesses with challenges that need support if they are to be overcome. Ultimately, the success of change is always linked to the people who are confronted with new ways of working within the digital workplace environment. And this is exactly why employee involvement and participation are essential, so that any opposition or rejection of new digital workplace solutions can be resolved, or, preferably, prevented from arising in the first place. Our change management approach focuses on targeted measures to promote your employees' willingness to engage in change and to create a positive employee experience in the digital workplace.
Let's work together to create the conditions needed for user acceptance of new technologies and achieve real success in digital workplace projects on the strength of change management.
Microsoft 365
Benefit from the comprehensive M365 portfolio and create the foundation for productive cloud collaboration – all with professional security standards in place. Access familiar office solutions such as Word, Excel and PowerPoint, as well as emails, calendars, appointments and other IT services with flexibility, regardless of location and from pretty much any device.
Hardware & end devices

We support you in buying the right hardware for your requirements – quickly, cost-effectively, and without being tied to a specific manufacturer. Whether mobile end devices, conference systems or industry-specific tools, we guarantee a perfect fit when it comes to hardware.
Custom Development

Established technologies from our partners already offer an enormous scope of services within our range of standard solutions. But we also offer you the best possible service beyond this, by supporting you in the development of custom software solutions & additional functions to meet your specific needs.