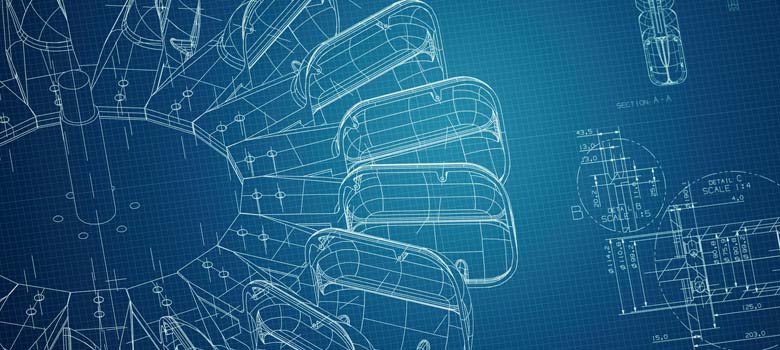 Product design cost estimate with ORBIS PCC
Maintain an overview of all the costs incurred right from the start of the product lifecycle
Product costing and simulation with ORBIS PCC directly in SAP
Calculate product costs completely in SAP even at the development and design stage – both with and without master data
When creating new products, approximately 80% of the costs incurred are already determined during the development and design stage, i.e. right at the start of the entire product lifecycle. The course for this is set by product design cost estimate. It enables people to determine, influence and reduce the costs incurred as early as possible at the start of a productdevelopment process. The basis for this must be up-to-date data from the ERP system, as well as end-to-end process integration, to avoid potential sources of error and ensure the accuracy of the costings.
But this is precisely where many companies face a major challenge: A non-transparent and complex costing process outside the leading SAP ERP solution and no option for carrying out reliable calculations directly in SAP.
We developed ORBIS Product Cost Calculator (ORBIS PCC) as an extension to the SAP standard solution to solve this problem and make the costing process simpler, more seamless and thus more efficient. In addition to quotation costing, this enables calculation of development-related costs directly in ERP both with and without master data and thus consistently in SAP.
Why should you calculate product costs with ORBIS PCC?
New automation technologies and the flexibilization of production mean that many companies now have product ranges involving a large number of variants. More variants automatically lead to more production options, and thus to different production costs and complex costing.
But what does this mean for your cost engineering operations? The answer is: Cost engineers often have to work with costing items for which neither master data exists in the SAP system nor prices are known for calculating total costs during development. As a result, most companies switch by default to using third-party systems like Excel to calculate production costs, but this is both time-consuming and manual and runs the risk of a high probability of error.
So it's obvious that the calculation of these material costs and production costs must be based on valid cost information and a standardized costing basis to ensure that costs can be identified and influenced at an early stage. This means the savings potential can be fully exploited; competitiveness is also ensured and the product is placed on the market with competitive pricing.
With ORBIS PCC, you can easily and efficiently calculate production costs directly in SAP both with and without master data.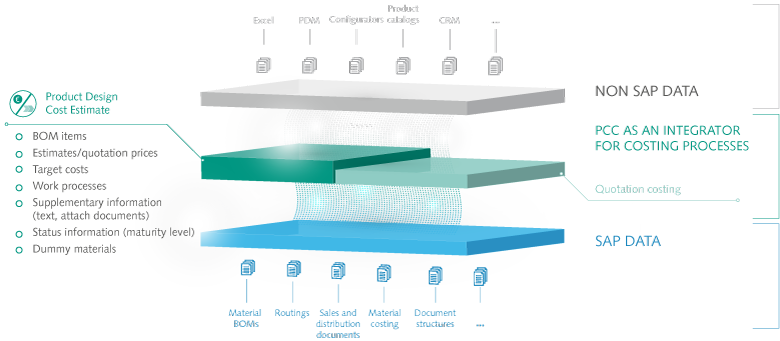 As shown in the figure above, ORBIS PCC is used as an integrator for the costing process directly in SAP and brings together the most important functions from the SAP modules Controlling (CO), Production (PP), Purchasing (MM) and Sales (SD). New materials or assemblies for which no material numbers or purchase prices have been entered in the SAP system yet can be added to the costing with a price and a short text or additional information.
ORBIS PCC can access current material prices, tariffs or overhead rates, for example, through direct integration in the SAP ERP solution, speeding up the overall costing process.
You can also store BOM items, quotation prices, target costs and work steps for each individual product; they are all taken into account for the calculation. These temporary materials and assemblies, which don't exist in SAP, can be generated directly as new SAP master data when the order is placed using a function integrated in our solution.
Costings are evaluated in ORBIS PCC using preset costing variants and pricing procedures. In addition, prices can also be adjusted manually: All the changes are fully documented and thus reproducible at all times.
The advantages of ORBIS PCC for your cost engineering operations

Costing across departments and company codes

Standardization in the costing process

Transparency of all production costs

No media discontinuity due to 100% SAP integration
With ORBIS PCC, you're taking a step towards smart costing:
Due to the fully integrated costing in SAP, a homogeneous database and a smooth and reliable flow of information between our solution and the ERP system can be guaranteed. The result: A standardized process without any media discontinuity. With the cross-departmental costing option for production costs, you promote active and optimum cost management, which ultimately forms the foundation for pricing. Involving Purchasing in the costing process also enables production costs with all the cost drivers to be forecast with a high degree of accuracy. All the data remains in SAP ERP system from the beginning to the end of the costing process and can therefore be completely monitored.
What's more, costing can be carried out across company codes, meaning the company's internal supply chain can be mapped in its entirety.
Within an extremely short space of time, you'll be able to clearly calculate all the costs for material and production and thus create cost transparency. Since the costs no longer have to be determined with manual maintenance efforts, e.g. in Excel tables, ORBIS PCC achieves a significant optimization for the calculation process.
By speeding up the costing process, cost engineering staff can concentrate on other tasks, like improving costing with regard to quality and cost-effectiveness.
Additional functions for your Product design cost estimate with ORBIS PCC
In addition to the ORBIS PCC standard solution, we provide additional independent modules that you can add as required. These modules provide additional functions that extend the ORBIS PCC standard solution and give you even more options for costing with our solution:
This module offers the option of comparing different costing versions down to the lowest level to make tracking changes or costing deviations easy.
This module allows you to export calculations of production costs to Excel spreadsheets. The complete costing structure, plus an overview of the most important costing data, can be mapped using flexible customizing. For example, you can create release forms for the department management team.
With the help of this function, you have the option of using Excel to import any structures from external systems into ORBIS PCC at the push of a button. This function can also be flexibly controlled using Customizing.
Check out all of ORBIS PCC's functions!
Quotation costing with ORBIS PCC
ORBIS PCC quickly and easily enables costings of professional quotations in SAP.
Calculating costs with ORBIS PCC directly in SAP
ORBIS Product Cost Calculator (ORBIS PCC), an SAP add-on based on ABAP, enables all costs to be calculated directly in SAP.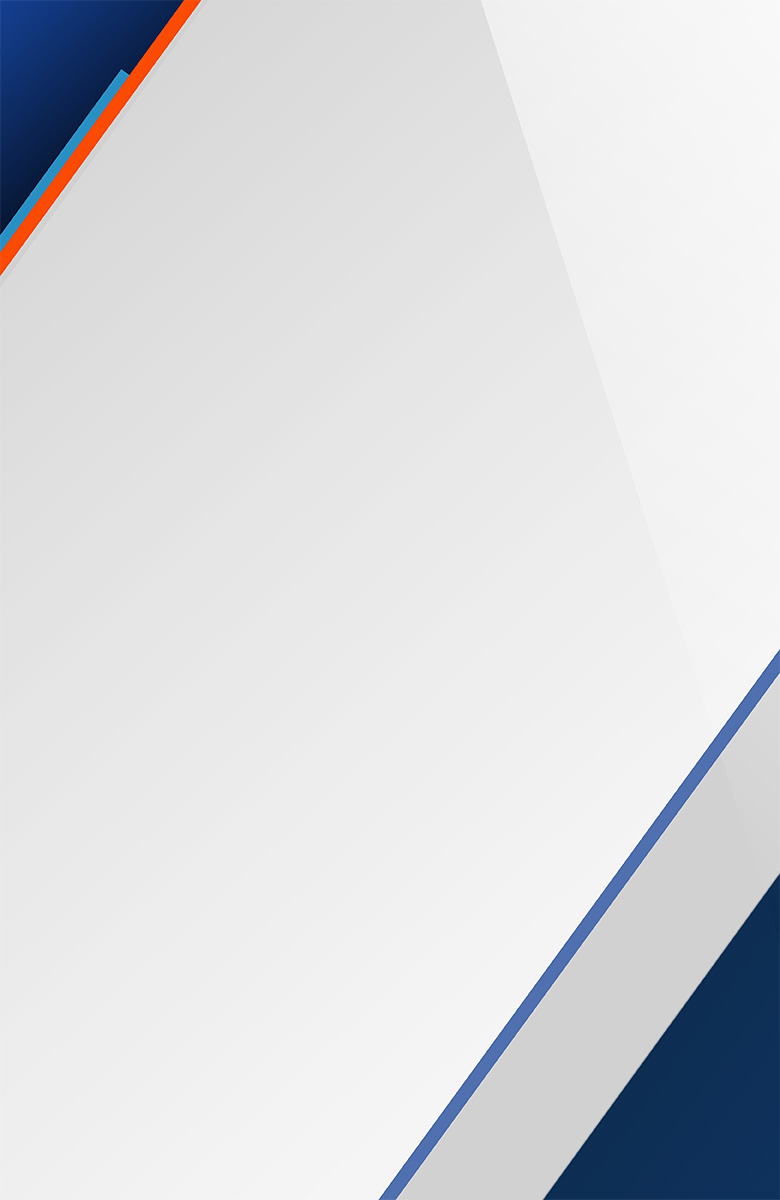 Claas Group: Calculating tens of thousands of items with ORBIS PCC completely integrated in SAP ERP

Introduction of ORBIS PCC with complete SAP integration: ERCO brings light into offer calculation

Smart Costing at HÜBNER Group: Product cost calculation with ORBIS PCC integrated and transparent in SAP at all times

KTR implements ORBIS PCC – preliminary costing directly in SAP and from one source