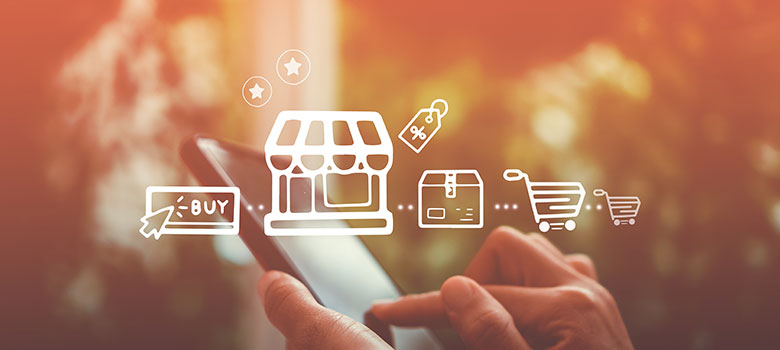 Dynamics 365 Customer Insights
The AI-based customer data platform from Microsoft for your customer insight management
Dynamics 365 Customer Insights – the intelligent customer data platform from Microsoft
What is Microsoft Customer Insights?
Dynamics Customer Insights is an innovative and flexible customer data platform that enables your company to generate a coherent and comprehensive profile for your customers.
Consumers nowadays have high expectations when it comes to customer service and customer experience and demonstrate this in their purchasing habits. Customer-centered companies meet these requirements and place the target group at the focus of their commercial practice. After all, to win over these demanding customers, you have to understand their needs, build trust in your brand, increase customer retention, and engage them across all channels with seamless and highly individualized processes.
The challenge this poses for most companies is that customer data is stored in a variety of different places. What's more, companies often lack the in-house expertise and time resources for customer analytics. So how can you sort your data into standardized customer profiles and use these to advise strategy accordingly?
That's where Microsoft Customer Insights comes in. The customer data platform collates customer data from a wide range of different sources and generates a 360⁰ view in real-time in the form of profiles.
360⁰ customer profiles thanks to Customer Insights
This innovative technology – based on artificial intelligence – allows you to generate digital customer datasets based on a variety of different data sources (e.g. CRM systems). The information generated by the system's intelligent predictive analytics tools helps you to make informed company decisions fast and steer your company in the optimum direction.
The diagram below shows this entire process from data aggregation, collation, and standardization in profiles right through to a clear depiction of insights and the generation of future measures. This allows you to offer potential customers the perfect range and impress with tailored products and services and seamless interaction.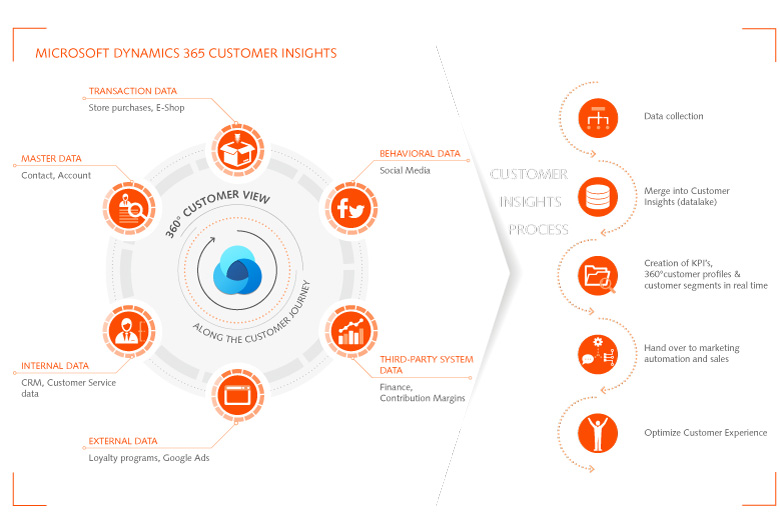 Customer Insights merges all forms of customer data (behavior data, transaction data as well as demographic data) from data silos. After this consolidated data collection, AI is used to generate attributes and individual KPIs and derive extensive qualitative contact and company profiles with valuable information on the basis of these. Standardized profiles will help you get to know your existing and potential customers better and achieve personalized and more effective communication across all customer touchpoints in the customer journey, boosting your success on the market and optimizing measures in marketing, sales, and service.
Features of Customer Insights
The software provides you with insight into the many different aspects of your business and, thanks to integration within the Microsoft Power Platform you can record a clear overview of the key findings in your control panel in the Cloud. Read on to find out more about the available Microsoft features and add-ons.
Big data analytics & individual KPIs
Standardization of customer data from a variety of different sources (e.g. CRM)
Qualification of customer profiles
Customer segmentation based on behavior, transaction, and demographic data (data mining)
Transfer to all standard marketing automation tools
Export of segments as first party data to Google Ads or Facebook Ads Manager for retargeting or lookalike advertising
Integration of Power BI as reporting and analysis tool (dashboards)
Microsoft Biz Apps (D365 and Power Platform) as a seamless digital process platform for customer service
Extensive set of readymade connectors for data source integration (custom connectors are also available)
Using the features above can help you achieve the following:
Purchase history and future customer behavior forecasts (prediction)
Identify the risk of potential migration to the competition
Tailored product and service recommendations
Optimize conversion rates and boost sales by cross-selling and upselling
Determine the value of customers and concentrate on customers with significant value-adding potential
Take the next step and take the opportunity to discuss Customer Insights one on-one with our experts. We'd be happy to discuss your specific application scenario and show you the benefits and success factors. We look forward to hearing from you!