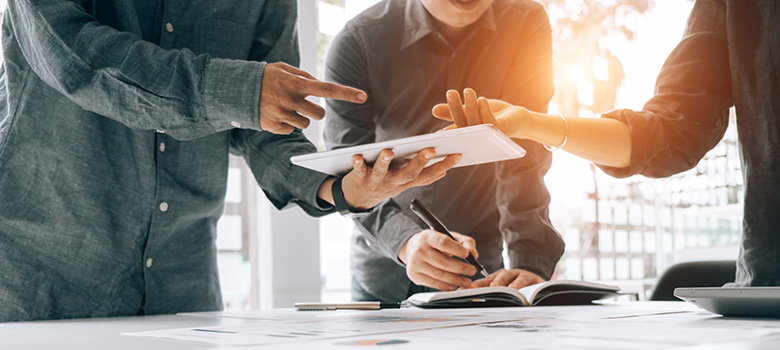 SAP IBP: Demand- and Sales & Operations Planning
The foundation for efficient and proactive supply chain management
Perfect Supply Chain Planning with SAP IBP

What is IBP?
With Integrated Business Planning (IBP), you have an ERP-independent cloud solution from SAP at your disposal for mapping the entire planning process.
The solution offers preliminary planning modules – from simple sales planning, to mapping a cross-divisional S&OP process.
IBP also provides an adequate rough production planning platform and optimum support for supply chain management along the entire value chain.
SAP Advanced Planning and Optimization (DP and SNP modules) – the previous version – is already in use in many companies. These functionalities can now be found in the SAP IBP solution.
The functional areas of the IBP cloud platform at a glance:
SAP Integrated Business Planning includes the following modules to help you with your supply chain management operations:
SAP IBP for Sales & Operations:
Sales planning, Sales and Operations Planning, and simulative Supply Chain Planning
SAP IBP for Demand:
Advanced forecasting methods (e.g. demand sensing)
SAP IBP for Response and Supply:
Operational cross-plant Supply Chain Planning (replacement of local MRPs)
SAP IBP for Inventory:
Inventory management, safety stock calculation and positioning
SAP IBP for Demand-Driven Replenishment:
Demand Planning with dynamically calculated buffers as a further development of the classic MRP approach
Supply Chain Control Tower (SAP IBP Control Tower):
Extended, not to mention cross-module and cross-system, evaluation and alert functions
Why is Demand- and Sales and Operations Planning relevant to your business?
Is your supply chain suffering from long replenishment and lead times? Do you find the planning process untransparent or reckon it's filled with system discontinuities? Do you have capacity problems, and are your production planning operations dominated by missing parts? Many companies face these challenges.
SAP Integrated Business Planning (IBP) offers you the perfect SAP HANA-based solution to overcome them, and efficiently assists you with optimizing your supply chain.
Demand Planning (DP) and Sales and Operations Planning (S&OP) form the foundation for efficient management and proactive supply chain management. The goal is to enhance the efficiency and accuracy of planning and to simulate planning throughout the supply chain to create a firm foundation for purchasing, detailed production planning and scheduling.
Both Demand Planning and Sales and Operations Planning are especially important in efficient business management. Together with the right scheduling procedures, they form the basis of a good delivery service level with optimum stock levels.
As the figure below shows, Sales and Operations Planning and Demand Planning are key factors and are an important prerequisite for the other sub-plans in the company.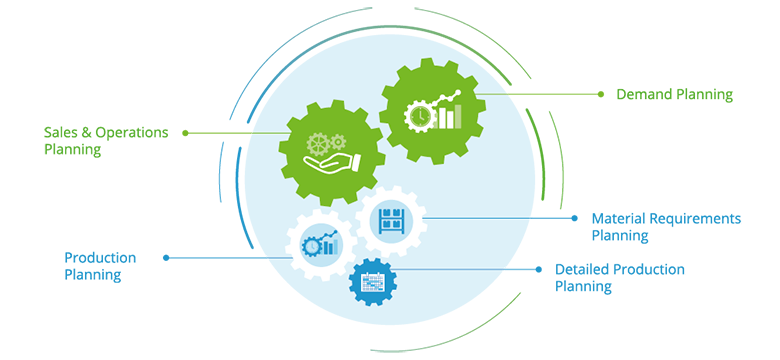 Transform all the plans from different business units, locations and various departments into a single consensus-based, integrated plan. Your local plans are consolidated centrally in a uniform data model and illustrated correctly in the company network with respect to scheduling. So the complete supply chain can be taken into account even at the planning stage, and feasibility can be ensured.
IBP offers cloud-based functions designed to control the planning process for end-to-end Supply Chain Planning in both quantities and values, in any granularity and dimension.
You can improve your sales planning with the help of modern planning front-ends in Excel, a variety of planning functionsand machine learning-based forecasting methods. What's more, SAP IBP supports you with a clear Fiori user interface, modern analysis and reporting functions, alert-based working, intelligent heuristics and many other functions too.
An ABC / XYZ analysis function for clustering the article spectrum is naturally integrated too. Likewise, a simple integration to the SAP Analytics Cloud (SAC) and to SAP CX is possible.
SAP IBP Part 1 – overview and basics of planning
Why is sales planning or Sales and Operations Planning so important? This webcast provides you with system-independent background knowledge and explains the interrelationships.
SAP IBP Part 2 – IBP planning process and system highlights
Would you like to know what functions the planning solution has to offer, and what a typical SAP IBP planning process looks like? Find out the answers and learn about exciting highlights directly in the system in this webcast.
The webcast is only available in german.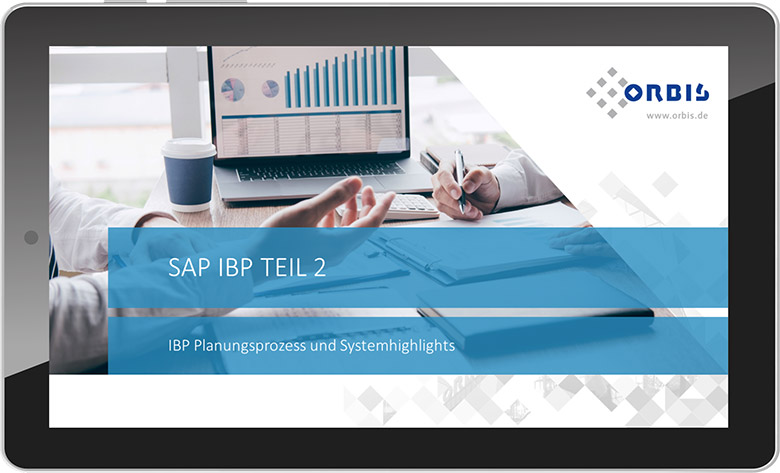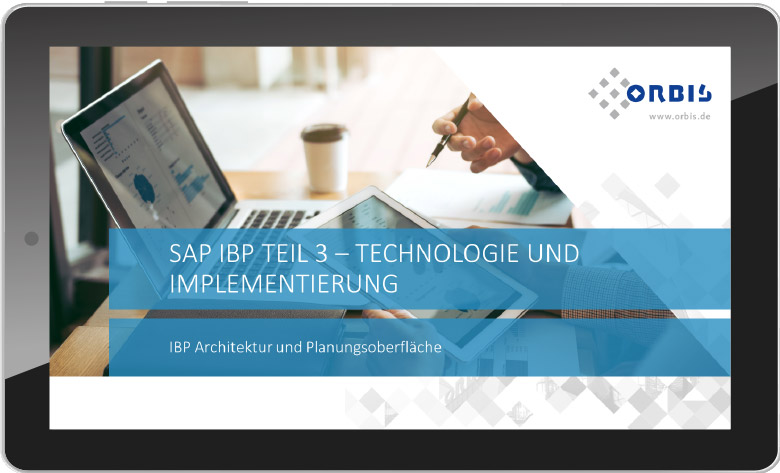 SAP IBP Part 3 – technology and implementation
Would you like to take a peek behind the scenes of the SAP IBP planning solution? That's not a problem! Find out more about the IBP architecture and see a sample system configuration in this webcast!
The webcast is only available in german.
Easy systems integration with ORBIS
Integrated Business Planning (IBP) enables perfectly mapped planning processes at the highest level with unbeatable convenience in the cloud in a modern tool.
The innovative planning solution therefore lays the foundation for your future-proof supply chain management operations.
The intuitive Excel front-end can be used without a great deal of training effort. SAP IBP can be implemented quickly and easily.
Your requirements are efficiently implemented based on ORBIS templates. Due to SAP's cloud technology, the implementation and subsequent operation of IBP are resource-efficient for your IT department.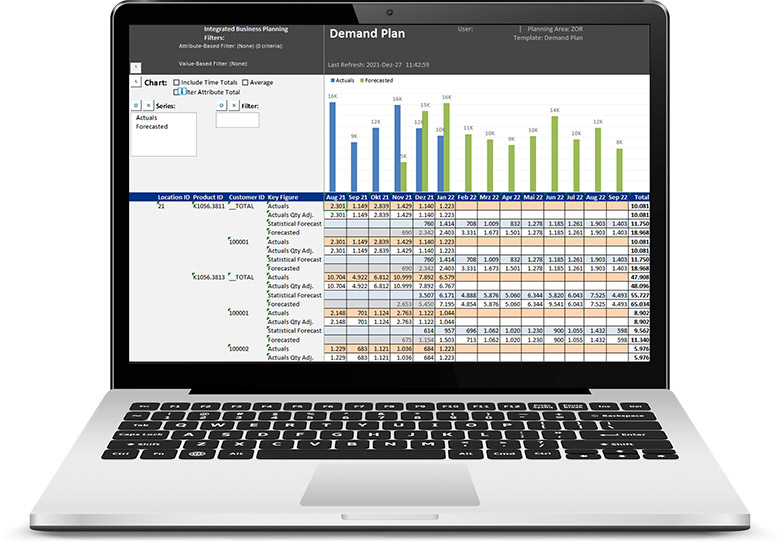 Rely on ORBIS as your partner and benefit from relevant functions for your business by using the right strategy and tools! ORBIS supports you with SAP project consulting, implementation and execution, not to mention optimization. Your requirements are implemented quickly and – following a state-of-the-art project methodology – efficiently.
We are also on hand to help you with further training even after the introduction is complete. Drawing on our many years of expertise and our consultants, we help you and your employees to build on your skills by holding webinars, webcasts and workshops. Learn about how your business can benefit from SAP's planning solution!
Get in touch with ORBIS Consulting and benefit from ORBIS's best practices – our SCM consultants advise your organization, your management team and your employees by providing sector-specific know-how on the topics of supply chain management and digital Supply Chain Planning with SAP.