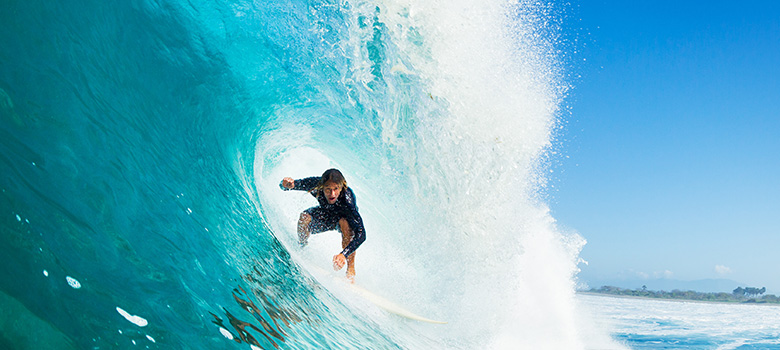 It's time to speed up the digital transformation.
The new SAP range at a glance: need-to-know facts and the role of S/4HANA Private Cloud Edition
"RISE with SAP" is a full-service range from SAP that provides companies with superb support for their digital transformation. The central solution is the ERP solution SAP S/4HANA in the cloud with two deployment models: Public Cloud Edition and Private Cloud Edition. Described as "Business Transformation as a Service", RISE provides you with a combination of all the SAP services you need to redesign your processes and turn the intelligent enterprise into a reality. So RISE isn't just a new solution; it's a complete package – with only one contract and only one company responsible. Whether you're an SAP customer or not, premium services and tools give you all the basic building blocks of an intelligent enterprise.
What's included in RISE with SAP?
SAP's RISE with SAP range is the answer to today's fast-paced environment. With SAP's cloud solutions and services, you can significantly speed up the digitalization of your business processes. With SAP S/4HANA Cloud Private Edition at its core, customers also get a modern, flexible and smart ERP system.

The digital transformation with RISE is split into three steps: (1) redesigning your processes, (2) technical migration, and (3) building the intelligent enterprise. Where you start on this path is determined by your company itself. In other words, no matter how much progress you've already made with digitalization in your company, you start out by modernizing your IT landscapes based on your own situation at that point in time. A brief description is provided below of all the RISE model's components (see figure below).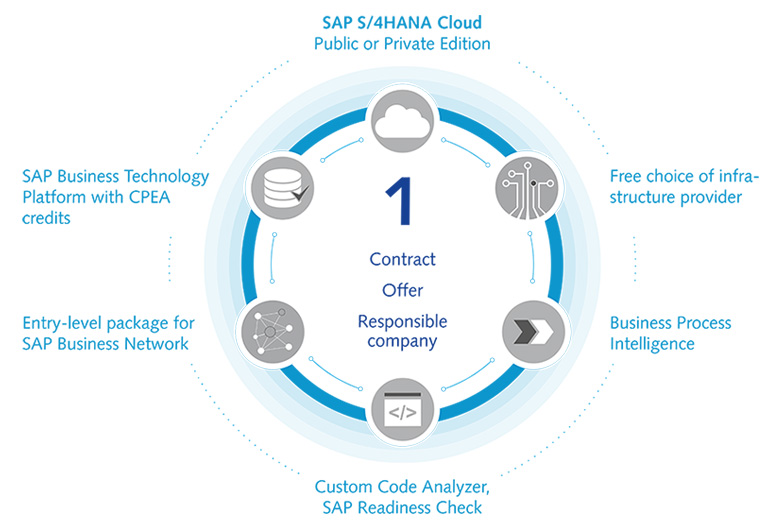 Step 1: Business process intelligence for process identification
In the first step, the focus for you as a customer is on more than just implementing new software. By taking a holistic approach, the business process intelligence solution gives you the opportunity to analyze your existing processes and compare them with the common standards in your industry.
Real-time monitoring allows you to identify both weaknesses and potential at an early stage. You can adapt and improve your processes to suit current requirements based on recommendations for action. Your company will also be able to automate tasks in the future due to the integration of SAP workflows and artificial intelligence (AI).
Step 2: Technical migration using integrated tools and services
Afterwards, the focus is on a seamless transition to your new ERP. Analytical tools and automated services mean you as a customer receive superb support on your way to the cloud. The SAP Readiness Check analyzes your current IT infrastructure and visualizes the results in an interactive dashboard. This allows you to make targeted, informed decisions about your transition strategy.

A consistent data layer is absolutely essential to implement a standardized, modular and flexible cloud model. With the Custom Code Analyzer, you can quickly identify and clean up custom code.
Step 3: Building the intelligent enterprise with SAP solutions
A variety of cloud solutions accompany and support you during the continuously necessary transformation process. With RISE, you form the foundation for continuous innovation – from the network, infrastructure and applications to a comprehensive platform. SAP S/4HANA Cloud is clearly at the heart of it all with its two deployment options: Public Cloud Edition and Private Cloud Edition (PCE). This smart SAP ERP solution in an innovative cloud environment guarantees successful, efficient and highly flexible business processes, and also ensures the integration of artificial intelligence. You have several options in selecting an infrastructure provider meaning that you gain the flexibility to choose the right infrastructure for you.
The Business Technology Platform (formerly SAP Cloud Platform) also enables you to quickly and easily integrate solutions from SAP, partners or third-party providers into the existing system landscape. There are currently more than 2,000 APIs available for connectivity. With RISE with SAP, you receive consumption credits (what are known as 'CPEA credits') for using this extension platform. The SAP Business Network entry-level package that's included gives you access to Ariba, the world's largest procurement network that has more than 5 million companies. The information it contains will allow you to manage your supply chain live and respond to changing market conditions early on.
All the advantages of RISE with SAP at a glance:
A simple model that puts your success under the spotlight: SAP is the central point of contact, thanks to the comprehensive package and just one service level agreement (SLA)
Approx. 20% lower total cost of ownership*: Get your investment's value faster by introducing SAP S/4HANA Cloud
Cloud technology innovations: Flexibly adaptable and scalable operating model
Improved cost control: 87% lower primary costs*
Reliable IT security: Guarantee of reliable compliance
*Source: SAP
SAP S/4HANA Cloud deployment options
The Public Cloud that everyone's already familiar with is a complete, modern and native SaaS ERP system. This ERP solution is only suitable for greenfield introductions or new implementations. The Public Cloud Edition is based on the principle of standardization and the use of best practices, thus enabling rapid deployment.
The S/4HANA Private Cloud Edition (PCE) is a brand-new option under RISE with SAP. This version is especially suited to those businesses that want to make the transition to a cloud environment gradually, at their own pace and with maximum customizability. So with PCE, you're combining the flexibility of a traditional on-prem system with the subscription-based economics of the cloud. In contrast to the greenfield approach in the public Cloud, SAP existing customers have the unique opportunity to complete their S/4HANA transformation in the private Cloud edition.
In both cases, you benefit from modern cloud ERP with smart functions and also cut the costs spent on IT resources and hardware.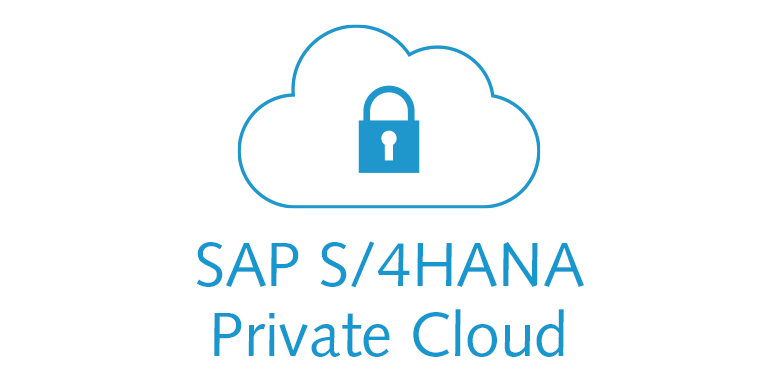 S/4HANA Cloud PCE's operating model and ORBIS's services
The graphic below shows the S/4HANA Private Cloud operating model. As a provider, SAP is responsible for software and support, technical managed services and infrastructure management. A freely selectable hyperscaler (e.g. Microsoft Azure) is available for the latter.

You can count on ORBIS's expertise as an SAP Partner for implementation and consulting services, as well as for application management. You as the customer are, of course, also free to supplement the services yourself.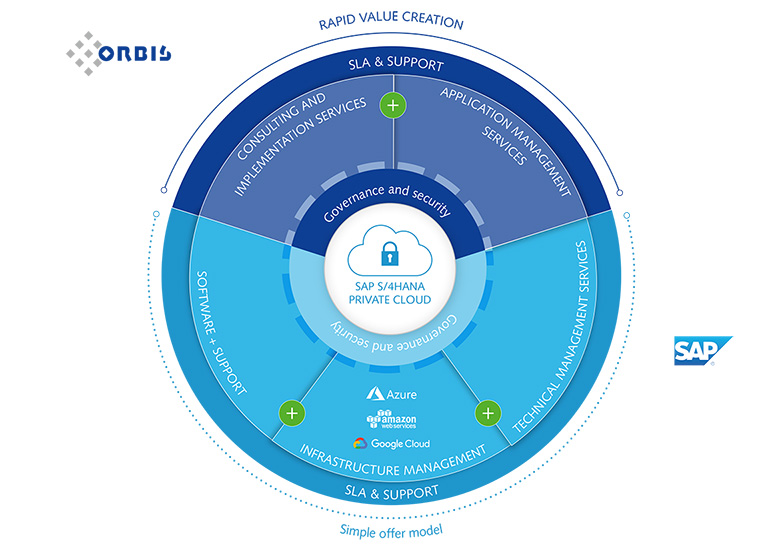 We shape your digital future – together
Do you need an expert partner to provide you with holistic support in your digital transformation and help you to achieve efficient, transparent processes? Then ORBIS is the perfect partner for you. With our extensive experience acquired from projects in various industries, you can harness the opportunities that the transformation has to offer to make progress.

Find out about other topics and stay up to date with our webinars. Any individual questions? Get in touch with us – we'll be happy to help you!