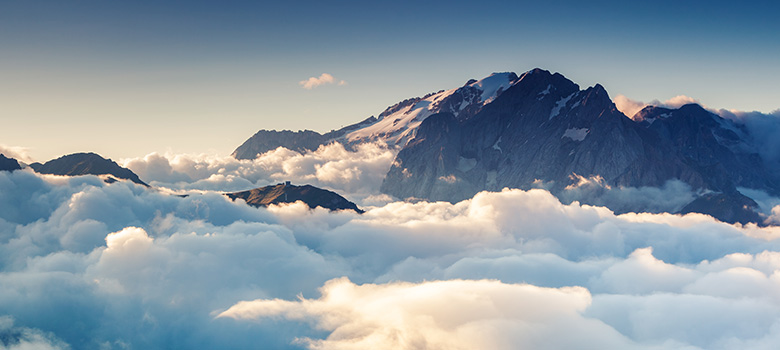 What does cloud ERP offer?
Benefit from automated, efficient and optimized business processes with scalable extensions
How companies benefit from an ERP system as a cloud solution
New technologies such as in-memory computing, artificial intelligence or cloud computing are no longer just on-trend topics or even dreams of the future. With cloud-based business software or ERP software, your company can integrate these technologies into its IT landscape. An enterprise resource planning (ERP) solution is the central building block for resource management in companies. When selecting a modern ERP system, one of the things these companies have to decide on is a specific deployment option: an on-prem solution, or a cloud-based ERP system instead?
Classic on-prem ERP: Here, the company in question retains all control rights over the infrastructure and software. Data is stored on the company's own hardware and servers; the company itself is also responsible for data security and data protection. With an on-premise system, hardware and software are usually obtained via one-off costs and an annual software maintenance fee is added. The operating costs for a support team required for infrastructure maintenance or software upgrades, for example, can drive up these costs in the long term.
Cloud-based ERP system: Both deployment and administration are the responsibility of an external service provider. So the ERP system isn't hosted locally, but externally. With a rental model like this, the expenses are spread over ongoing operating costs; the investment costs are lower than with on-prem deployments. The external service provider takes complete care of all the maintenance, software updates or security precautions. Last but not least, a cloud ERP system can also be used when you're on the move.
What are the benefits of cloud ERP software?
With modern cloud-based ERP solutions, innovative and scalable processes that are highly advantageous for companies are established. A cloud-based ERP system forms the perfect foundation for dynamic growth and survival in a tough competitive environment. What's more, a cloud ERP solution offers some plus points compared to classic ERP systems.

Rental model: Opex instead of Capex

System basis: best practices as a solution

Extendable and scalable

Intuitive, mobile capable and personalizable

Forecasts, statistics and reporting

Automatic and regular updates

Maximum data protection and security

More freedom for employees thanks to efficiency
First of all, cloud-based software or a corresponding ERP system is based on a rental model. So the expenses for Software-as-a-Service (SaaS) are distributed over the ongoing operating costs (Opex). High investment costs in the beginning, which were common with older ERP solutions, are now a thing of the past. So your company can benefit from low IT costs. Internal IT resources are freed up or saved, because update and maintenance work is carried out externally. This means that even companies with small IT departments can implement a cloud-based ERP solution without any need to add additional resources.
A cloud ERP system is based on proven standard processes or best practices for business processes. It's easy to expand and scale, making it ideal for dynamic markets and growing businesses. A short implementation time and automatic updating of new data security and protection requirements contribute to this too.
Cloud ERP software also shines bright because it is highly user friendly. It is usually intuitive, mobile and personalizable. What's more, business intelligence is becoming an essential component – statistics, reporting and forecasts can be created with just a few clicks and in real time to boot. Last but not least, thanks to cloud technology, updates are automatically and regularly applied in a cloud ERP system.
Comparing the private cloud and the public cloud in the environment of ERP software
There are also different deployment models for cloud services. How do you distinguish between the private cloud and the public cloud? As its name suggests, the public cloud is public and therefore available to everyone. The various ERP providers offer different services, such as automatic updates or storage space, which are billed based on use and can be flexibly selected or expanded as required. So the public cloud is the most affordable option and can be set up most quickly to meet demand.
The private cloud provides its resources exclusively for one company. It can therefore be provided in the company's own data centers or by cloud service providers. Private servers make a private cloud suitable for businesses with mission-critical operations that require a high level of control. These separate regulations ensure a high level of adaptability to individual requirements. But this is likely to increase the administrative burden on the provider and company side. This results in higher costs and a lack of fast and flexible scalability.
An SAP ERP system – a long-term solution
SAP's cloud ERP solutions are ideal, particularly for dynamic companies that want to stay on track to achieve growth and success. Modern technologies ensure maximum flexibility. This includes digital assistants, up-to-date analytics tools, permanent innovations and regular updates. So cloud ERP is becoming companies' most important tool in the digital age.
With over 45 years in the ERP field, SAP is the market leader in company software and offers systems for companies of any scale. SAP now has over 220 million Cloud users, offers more than 100 solutions covering all business areas, and leads the field of providers with the most comprehensive portfolio of Cloud ERP solutions. The older on-prem ERP solution SAP ERP, also known as SAP ECC or SAP R/3, is also well known and tried and tested. The cloud ERP systems Business One or SAP Business ByDesign are suitable for small businesses. In the meantime, SAP has developed SAP S/4HANA Cloud for midsize and large companies, or even fast-growing SMEs.
Get an introduction to SAP's cloud ERP product world
SAP S/4HANA Cloud: the cloud ERP of the future
SAP S/4HANA Cloud is a particularly innovative cloud ERP solution. The software works based on the in-memory database SAP HANA and thus achieves previously unimagined speeds or works in real time. Industry-specific best practices become the foundation for proven and custom-fit business processes. Integrated artificial intelligence (AI) and machine learning provide unprecedented insights and data analytics. All in all, SAP S/4HANA Cloud, together with the SAP HANA database, becomes the central building block for the intelligent enterprise. SAP S/4HANA Cloud is the central solution in the full-service RISE with SAP range and is available in a Public Cloud Edition and a Private Cloud Edition.
SAP S/4HANA Cloud is a fully integrated ERP system which is now integrated in the SAP Business Technology Platform (SAP BTP). This Platform-as-a-Service (PaaS) range provides comprehensive cloud applications and enables implementation of custom requirements.
Introduce forward-looking and cloud-supported ERP with ORBIS
Find your custom solution together with ORBIS on the way to the intelligent enterprise. A modern, cloud-based ERP system is a crucial factor in this respect. Our experts are happy to answer any questions you might have about cloud computing, the Cloud ERP system and SAP S/4HANA cloud. Get in touch with us!
Our SAP consultants offer comprehensive expertise in the SAP Cloud environment and for intelligent SAP solutions along the entire value chain. With our specifically developed add-ons, we enrich the functions of SAP software solutions – always with the SAP system as the digital core. The experts at ORBIS take a holistic view of your company's processes and IT infrastructure, providing you with superb support for your digital transformation. Our extensive experience, first and foremost through projects with manufacturing companies, gives you the guarantee that, with ORBIS as your partner, you're opting for a digital future with long-term success!