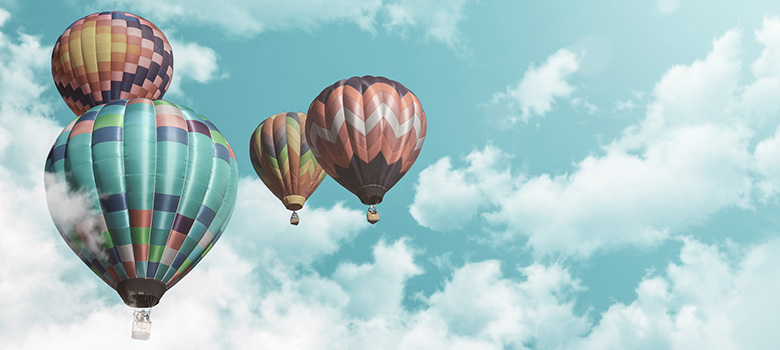 Stay one step ahead of the competition: switch to SAP S/4HANA Cloud with ORBIS.
With SAP S/4HANA Cloud and ORBIS: Make your business processes fit for the digital transformation
Design your business models with the utmost innovation and flexibility
Nowadays, modern enterprise resource planning (ERP) systems have to be able to withstand any change and allow for the swift introduction of new functionalities.
The cloud ERP solution S/4HANA, based on the SAP HANA in-memory database, is the latest generation of ERP solutions from SAP, meaning it can process large volumes of data in real time. To highlight the most important advantage: the ERP system helps you to harness the digital transformation as a strong advocate and to design your business processes in an ideal and future-proof way.
When it comes to switching to the state-of-the-art SAP ERP system, companies have two different options to choose from:
SAP S/4HANA Cloud is the Software as a Service (SaaS) solution in this context. This software is upgraded quarterly by SAP SE updates, and is also flexibly scalable as a cloud ERP solution.
SAP S/4HANA On Prem, a fully comprehensive real-time ERP suite, offers the most flexibility in terms of customization and the full range of functions.
Why SAP S/4HANA Public Cloud?
SAP S/4HANA Cloud: the key to future-proof processes
Would you like your company to remain competitive in the long term? Then you need an ERP solution that is flexible, scalable, always up to date and can be used globally. In short, you need S/4HANA Cloud – the software that always keeps pace with the times!
All the advantages of S/4HANA Cloud at a glance:
Faster return on investment (ROI) and value creation thanks to swift management of the IT landscape with your company's growth in mind
Greater business flexibility than with an on-prem system due to new releases, introduced once every quarter based on current updates and enabling dynamic customization options
Less strain on internal resources (IT infrastructure, IT department) due to technology being outsourced to the Public Cloud and SAP taking over operations
Lower total cost of ownership (TCO) thanks to straightforward and affordable implementation, configuration and maintenance of the cloud solution
Under the pay-per-use principle, companies only pay for what they actually use
Higher degree of standardization based on integrated best practices that meet industry-specific requirements
More intelligent and efficient cloud ERP thanks to features like machine learning and extensive analysis functions for quick decision-making
End-to-end mapping of business processes in real time across the entire company: includes Procurement, Sales, Finance, Logistics and HR
SAP customers also benefit from the latest, growing standards in IT security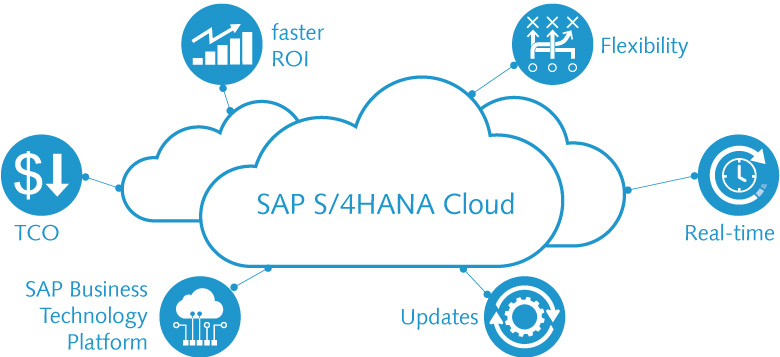 S/4HANA Public and Private Cloud with RISE with SAP
Would you like to adopt a comprehensive cloud strategy for your digital transformation? Then RISE with SAP is the perfect product for your company.
Two-tier ERP strategy with SAP
The two-tier ERP strategy describes the use of two different ERP systems within a company. Benefit from a hybrid system landscape with S/4HANA and S/4HANA Cloud and the advantages of a two-tier ERP strategy.
Switch to your new ERP software faster with standardized best practices for all business units and sectors
Does your company operate in the manufacturing industry? Thanks to ORBIS's expertise in this very sector, you will have access to optimum process consulting – and, with S/4HANA Cloud for the manufacturing industry, you can map all manner of industry-relevant core processes from make-to-stock to engineer-to-order.
SAP S/4HANA Cloud for the manufacturing industry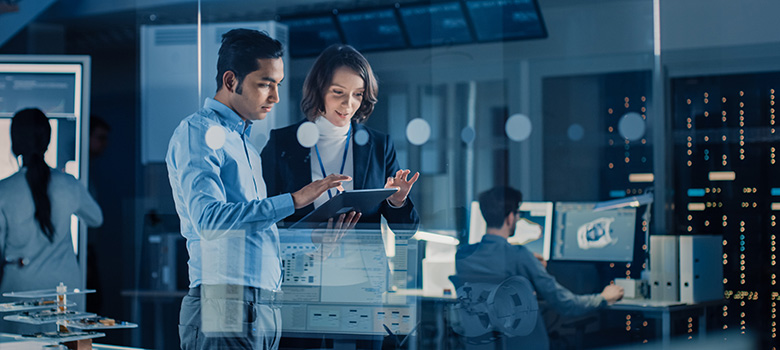 SAP S/4HANA Cloud for the manufacturing industry
Cloud services offer best practices that are specific to your sector. Networking all machines using the cloud helps to boost production speed in the manufacturing industry. Find out which manufacturing approaches (e.g. make-to-stock, assemble-to-order or configure-to-order) are best served by S/4HANA Cloud.
With the SAP Business Technology Platform, individual requirements can be implemented too – whether you opt for the Public or the Private Cloud
One particular advantage of the SAP ERP solution lies in the Business Technology Platform (formerly known as the SAP Cloud Platform), which enables the integration of additional cloud applications, such as SAP Analytics Cloud or SuccessFactors. This allows you to expand your IT landscape as needed, quickly implement your own innovations, and thus move toward the Future Intelligent Enterprise. Among other things, you guarantee intelligent networking across the entire value chain.
User-friendly interfaces: analyze data in real time on stationary or mobile devices
Within the cloud ERP system, user experience (even for your employees) is a top priority. The modern visual design using SAP Fiori provides a simple and intuitive interface, leading to increased productivity due to faster user actions. The solution's intuitive design allows the ERP cloud solution to learn quickly – without any time and effort needed for training.
Anytime, anywhere, employees can access the system using stationary or mobile devices and obtain a real-time overview of company data. Predictive analytics based on artificial intelligence allows you to take swift action and prevent material shortages, for example. You can also offer your customers real-time data relating to product availability for orders, making a valuable contribution to the customer experience in the process.
Why choose ORBIS as a partner for implementing SAP S/4HANA Cloud?
We are a long-standing SAP partner, offering comprehensive process expertise for all business units, customized to the requirements of your company. Our experience obtained from more than 35 years of successful consulting, coupled with innovations from the cloud ERP solution S/4HANA Cloud, form the foundation of sustainable corporate success.
We can provide you with ideal assistance, especially when it comes to growth and flexibility. We provide support along the entire value chain! We can advise you on launching solutions from the SAP environment while offering additional technology in the form of our very own proprietary solutions, developed in-house and fully integrated in SAP ERP, such as the ORBIS Smart Factory solutions or the ORBIS Product Cost Calculator.
Benefit from an efficient changeover to S/4HANA Cloud with ORBIS
To ensure the launch of your new SAP ERP runs smoothly, ORBIS helps you to prepare for an optimum switch to S/4HANA Cloud, On Prem or even hybrid scenarios (two-tier ERP). As part of our Discovery Transition Workshops, we come together to determine the best approach for your company and choose the best operation and switch scenario to meet your requirements. In addition to the well-known Greenfield and Brownfield approaches, together with our partner SNP we have developed the ORBIS Smart Move to help with your individual transformation to SAP S/4HANA.
Arrange a date for the ORBIS Discovery Workshop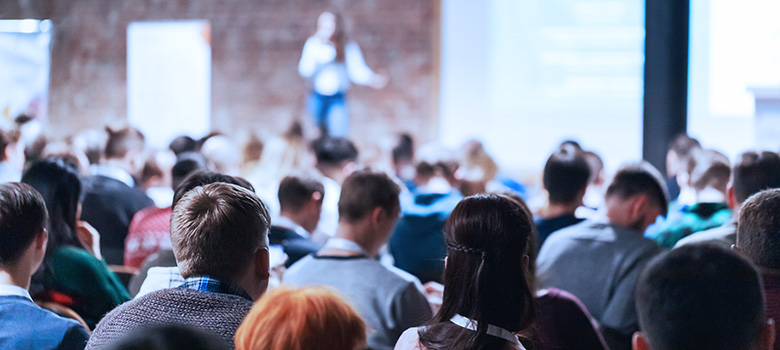 SAP S/4HANA On-Prem or SAP S/4HANA Cloud?
Our Discovery Workshop will help you decide whether an on-prem system or a cloud ERP solution in the Public or Private Cloud edition is the right choice for your company.
Book a workshop
Consultation on a level playing field: we are familiar with your industry's processes and specific requirements
With more than 35 years of consulting and process experience in the SAP environment, we can look back on numerous projects in a variety of sectors. Benefit from our many years of expertise in the sectors of discrete manufacturing, mill products and the automotive industry. Our specialization in the manufacturing industry also means you have the added benefit of process consulting in diverse production scenarios.
Our certified consultants can help you during the planning stage and help set the course for a successful software launch and cloud migration. By opting for ORBIS as a partner, you're banking on future-proof processes that will guarantee customer satisfaction and a competitive edge in the long term. Use the cloud-based ERP solution as the central building block to create your smart company!