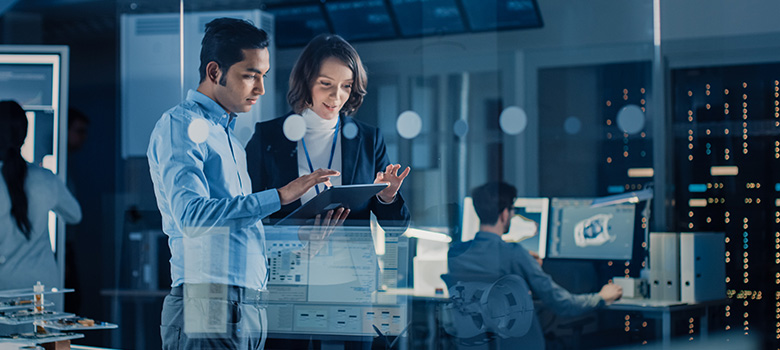 SAP S/4HANA Cloud for the manufacturing industry
Intelligent cloud ERP for manufacturing
Which features offers SAP S/4HANA Cloud for manufacturing?
Optimize your company's production with SAP S/4HANA Cloud
Faced with ever-increasing quality expectations from customers for products and services with the fastest possible delivery times and at minimal cost? An intelligent ERP system is the key to optimized manufacturing prouction processes. The flexible software SAP S/4HANA Cloud offers features that digitally map your manufacturing processes from the concept stage right through to operation with full transparency.
As well as the general advantages of cloud ERP such as the simplification and standardization of processes along with ongoing innovation with flexible scaling options and the lowest total costs of ownership (TCO), S/4HANA Cloud contributes to optimum management of your manufacturing operations with industry-specific best practices. Get your production capabilities ready for Industry 4.0 and the digital future with an ERP system that meets the requirements of discrete manufacturing.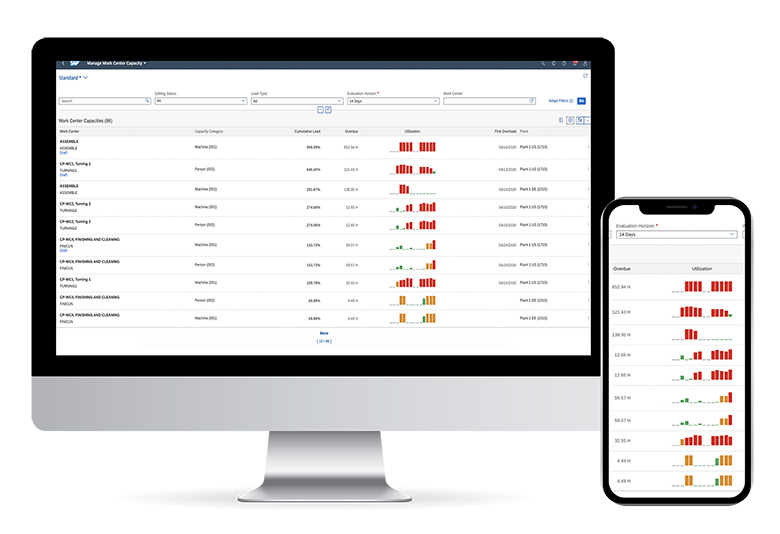 Innovations & capabilities of SAP S/4HANA Cloud for manufacturing
As a manufacturer, it is crucial that your ERP solution delivers clear and accurate data to enable you to respond quickly to changing framework conditions. Optimizing production with the help of Enterprise Resource Planning (ERP) can play a decisive role in boosting the efficiency of your company. When choosing an ERP solution it is important that the software can support and map your processes as a form of industry solution. SAP S/4HANA Cloud offers the following powerful features for manufacturing and supply chain:
Real-time analysis and dashboarding of production data
Efficient production is dependent on maintaining sufficient material stocks. With SAP S/4HANA Cloud you can use pre-configured dashboards and real-time analyses. With these features the ERP system enables you to detect when manufacturing problems have arisen or when workload is not optimally distributed across workplaces.
Live production planning in the ERP system
Coordinate your manufacturing processes from material requirements planning and scheduling right through to stocking. In the event of changes in suppliers or confirmed orders, the system supports efficient planning by allowing you to adapt your production plans in real time.
Support for complex assembly processes
The ERP S/4HANA Cloud can help your company to generate efficient plans for complex assembly processes covering various fields like material requirements, capacity, and production planning. The ERP system supports all business processes by integrating production workflows, machine models, parts lists, and work plans.
Exception-based working throughout the company
ERP from SAP enables you to coordinate production and material flows optimally. Methods like just-in-time supply or lean control can help you to optimize your day-to-day business in a targeted manner. By transparently mapping your production operations, the cloud version of the latest SAP ERP solution supports the digitalization of your manufacturing.
Efficient, global cooperation
For large companies with numerous factories, it is particularly important that their ERP system supports international processes. But even in small companies, many departments like research & development are linked to production. That is why SAP S/4HANA Cloud offers targeted analysis for various business units that can be retrieved regardless of location. SAP ERP connects easily to other software solutions – for instance, CRM systems like SAP CX. With the ERP system as a "single source of truth", your entire company can always rely on up-to-date information.
Create the basis of an intelligent enterprise with SAP S/4HANA Cloud and ORBIS
The ERP system SAP S/4HANA Cloud offers a number of advantages when it comes to efficient management and planning in manufacturing. It maps all business processes from make-to-stock to engineer-to-order optimally. What's more, cloud computing can help you cut IT costs and save resources – that's because your ERP provider takes over the management of your IT infrastructure. The technology of SAP systems is so effective that your company can map its entire value chain digitally.
With consulting from ORBIS and the use of SAP solutions as well as our own in-house solutions and add-ons, you're well on your way to digitalization and automation throughout your entire company. Whether it's SAP Customer Experience, the Cloud solution for CRM, efficient supply chain management or reliable logistics solutions – our know-how can help you to boost the efficiency of your value chain while specifically targeting the requirements of your customers.
Our SAP consultants have acquired years of experience in the manufacturing industry through various customer projects. We are familiar with the challenges of your industry and its production processes and we know how to prepare your company for the digital future. ORBIS supports you on the path towards long-term economic success with the right software.